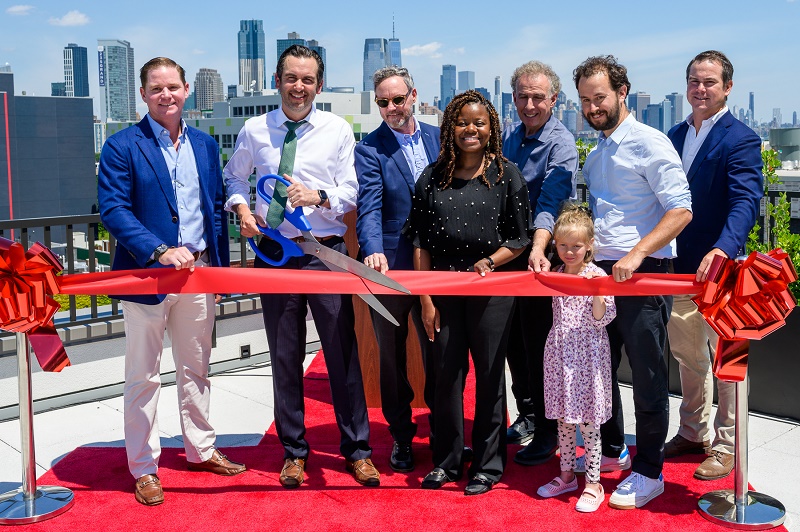 July 8, 2022
Developers gathered in Jersey City recently to mark the ongoing resurgence of the historic Bergen-Lafayette neighborhood, the site of a new 114-unit luxury apartment building that the firms delivered earlier this year.
Principals from both Alpine Residential and Fields Grade were on hand June 30 at The Hazel, welcoming Mayor Steven Fulop and other visitors to the six-story property at 89 Monitor St. They did so four months after the launch of leasing, where they've revitalized parcels that housed an aging apartment building and a warehouse, in an area that provides quick access to the downtown, Liberty State Park and highway and mass transit options.
"Thank you first to Alpine. They've done several projects in this neighborhood and are also slated to do SciTech City, which is around the corner from The Hazel and one of the most significant projects that is happening in Jersey City and will be transformational for the entire region," Fulop said, referring to a sweeping mixed-use redevelopment across from the Liberty Science Center. "I've also had the privilege of working with and calling Rob and Jim Caulfield friends for close to 17 years. I appreciate the fact that they follow through and build what they say they're going to build.
"More than that, they are willing to invest in areas that aren't necessarily on the radar yet, whether that's on Jersey City's West Side or right here in Bergen-Lafayette."
Fulop joined the developers for a ribbon-cutting ceremony in The Hazel's sky lounge and outdoor, landscaped roof deck with the Manhattan skyline in the backdrop. The spaces are among several amenities at the collection of studio, one-bedroom and two-bedroom homes, which includes six units reserved for lower-income renters.
"The Hazel and its leasing success are further proof of the appeal of Bergen-Lafayette, which offers the best of both worlds for today's renter," said Bill Rosato, managing partner of Alpine Residential, which has developed hundreds of homes in the neighborhood, with hundreds more in the pipeline. "The community is close to all that makes Jersey City so great, including its vibrant dining, cultural and entertainment scene, and the renowned Liberty State Park. It also provides a great alternative to the hectic pace of downtown neighborhoods with a more tranquil, small-town environment. We're excited to be a part of the growth of Bergen-Lafayette and look forward to continued investment in the community."
Designed by Fogerty Finger Architecture, The Hazel features a distinctive façade of gray and green brick punctuated by large floor-to-ceiling windows as a nod to the neighborhood's industrial heritage, according to a news release. Apartments have upscale design, appliances and finishes, while residents will have access to amenities such as outdoor courtyards, co-working space and a high-end fitness center.
Alpine Residential and FieldsGrade are leasing the property in tandem with The Marketing Directors. South Oxford Management manages the property, which also features the on-demand smart rental store known as TULU offering household and lifestyle products.